Senior Antonio Servidone is participating in the Capital Region BOCES Broadway Tech Career program available to Mohonasen students, where they learn from touring and theatrical industry professionals.
Servidone joined other high school students from across the region at Proctors to learn backstage production skills and information from the behind-the-scenes technical crew and experts from the touring production of "Company".
Led by entertainment industry veteran Ann Aumick, the day-long seminars and workshops continue until "Company", a Stephen Sondheim musical comedy, opens a two-week run at Proctors on Oct. 8.
Skills ranging from costuming to lighting and even directing will be discussed and demonstrated throughout the seminars.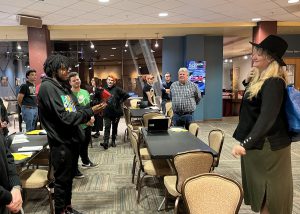 "It's a really cool opportunity for us to work with professionals and gain insight into that world," said Servidone.
It is a great opportunity for students to learn from industry experts as they prepare to stage a Broadway show. "They will gain experiences and learn skills they would not otherwise have the opportunity to, as well as make valuable connections within the Broadway community," said Entertainment Technology teacher Jeffrey Knorr
Students and families can learn more about the Capital Region BOCES Entertainment Tech program here.