The district proudly presents the 2023 New York State Field Band Conference Small School 3 State Champions! The Mohonasen Marching Band placed first in their division at the New York State Field Band Conference on Sunday, Oct. 29, at the JMA Dome in Syracuse.
The competition brought together over 50 high school marching bands in the northeastern United States. Mohonasen beat out eight schools in their division for the title.
This is the third NY State title for Mohonasen, with other wins coming in 2008 and 2010. The band scored 83.725, their highest score of the year. Sunday's championship win was the culmination of an 8-week-long competitive season in which Mohonasen was consistently recognized for high achievement in their performances.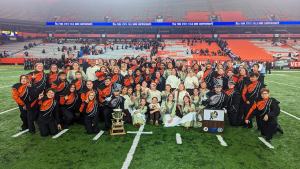 Participating students:
Ember Beer
Kyle Benintende
Lorelai Beswick-Ross
Julian Bien
Madison Blanchard
Annabeth Borzymowski
Kylee Bratt
Emily Carota
Isabelle Carson
Kaleb Cejka
Zoe Colomb
Isabella Concepcion
Jamie Condon
Gabriella DeJoy
Alexa Di Cocco
David DiCocco
Isabella DiPietro
Devon DiSorbo
Togba Doe
Vienna Dolan
Isaac Kyle Dolar
Isabella Clarize Dolar
Jacob Ekmalian
Jamie Farricker
Natalie Foley
Rylee Friends
Marissa Gallione
Giovanni Gallione
Madison Glenn
Isaiah Goodrich
Oliver Greenwood
Morgan Haley
Demajae Harris
Keilani Kibbe
Trenton Kirker
Jordan Kirker
Ziggy LaFountain
Aidan LeClaire
Max Madison
Sophia Massaroni
Aidan McGovern
Shelby McLean
Kinley McLean
Luke McNally
Jaeden Mosher
JJ Nuzback
Anastasia Nyahay
Evan Pena-Ramirez
Max Quickenton
Kemryah Riccio
Jaylynn Rickard
Meleana Rivenburgh
Joel Rivera Jr.
Makenna Robillard
Angel Rodriguez
Aidan Ryan
Hailey Sanders
Danyella Sanders
Gavin Schmid
Cole Secor
Greyson Soto
Oliver Tolentino
Adrianna Torres
Hannah Toukatly
Brooke Toukatly
Robyn Tyrell
Shawn Unser
Julia Varga
Emily Warlik
Josh Wheeler
Holden Wilson
Madison Zorda